Investor Empowerment Inc. (IE Inc.) is a FinTech company. We create financial industry solutions by applying leading edge technology. Our flagship product verves with the service mark of FundPOWER. It is intended to empower people, and help them successfully invest in mutual funds and ETFs via their 401k, IRA and brokerage accounts. We are NOT advisors or brokers. We are NOT affiliated with any mutual fund. Our research is unbiased and independent. We analyze the funds you own or would like to invest in, and then give you the right information and tools, to decide what to invest in.
We are PASSIONATE about educating and empowering the investor community. An educated investor is an empowered investor.
Out of $22 trillion invested in mutual funds, millions of investors lose billions of dollars each year, in spite of professional investment management services and guidance provided by retirement plans. The main reasons for such enormous losses are untested rules-of-thumb and guidance systems that are obsolete in the era of globalization and uncertainty. Many ill-informed and ignorant investors go along with what advisors choose to tell them. We are asked to believe that when our investments do well it's because of the "Experts," and when they don't do well it's because of the "Market." It's our nest-egg, not theirs! We have worked smart and hard to earn it. So let's be smart to protect it. It is critical that individual investors be empowered by the right know-how and be accountable for their financial future.
We show investors evidence to debunk traditional industry myths and rules-of-thumb. And we also show investors how to select the most suitable mutual funds from the funds available to them through their brokerage or 401k accounts. Using the correct know-how and performance ratings is critical for success. We developed this know-how starting with industry leading mutual fund performance research of 25,000+ funds over the last 15 years.
Our company was founded by Suzana Naik, an accomplished executive with over 20 years of experience in international finance, planning, strategy and operations across different industries and dynamic environments. She was the Vice-President of Decision Support & Business Analytics at Family Dollar Stores Inc. She has also served in various financial leadership roles at "best-in-class" global companies such as Gillette, Compaq, Staples' and Dunkin' Brands. She has lived and worked in North America, Europe and Asia over the last 20 years.
Suzana holds a B.Comm. in Accounting & Auditing from Pune University, India, and received her MBA in Finance and Marketing from Saint Mary's University, Halifax, Canada. She has also completed her Post-graduate Certificate in Special Studies and her Post-graduate Certificate in Applied Sciences, both from Harvard University, Boston, USA.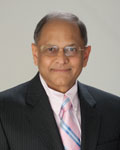 Dr. Ani Chitaley is in-charge of our Research & Technology. He has been consulting in equity market quantitative research, investment management, performance measurement and trading systems, since 2007.
He worked in Fidelity's mutual fund management division for 11 years, and left Fidelity in 2007 as Senior VP & head of equity market quantitative research.
Ani's work saved trading costs over $1 billion for Fidelity's mutual funds. The trade quality measurement system developed under his guidance was used during a major industry-wide SEC investigation, to verify that Fidelity's trading floor maintained "best-execution" fiduciary responsibility. His team also developed innovative solutions for electronic crossing networks, and algorithmic trading.
In the past, Ani has worked in research and manufacturing management and as a management consultant at Booz-Allen-Hamilton.
He has a doctorate in Mechanical Engineering from MIT, an MBA from Case Western University, and a Masters from IIT, Mumbai, India. He holds patents on volatility based pricing, and on Monte-Carlo based volume-sensitive trade price estimation. Ani can be reached at ani.chitaley@live.com and on LinkedIn.
---